A number of topics today
Closures & Cancellations
The canine Flu "epidemic" has caused a few indoor training centers to close their doors to dogs for a month. For IPOC, this also required cancellation of their July 22-23 UKC agility trial. 
Arcadia Update
For those that take US-17 from the north, they are finally expanding and straightening the last two lane section. That is the good news. The bad news, the project will not be completed until Summer 2018 but there is minimal impact on traffic flow. There is also some construction going on the North side of Zolfo Springs.
The new Arcadia Rodeo covered arena is going up next to the Turner Center (across the ditch from the RV area). The artist renderings also show a third row of RV spots backing up to the ditch. There is a bridge across the ditch in the middle of the arena. The following is a photo from last weekend: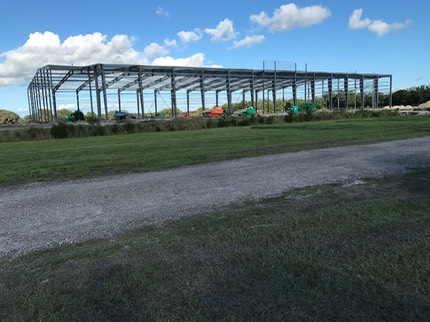 Artist renderings, etc. can be found at: http://arcadiarodeo.com/new-mosaic-arena/
I look at it as a potential site for non Summer trials in SW Florida.
US OPEN
UKI has announced that the 2017 and now the 2018 US Open will be held at the Jacksonville Equestrian Center. November 9-12, 2017 and November 8-11, 2018. The dates for 2019 & 2020 are also in the calendar but the location is TBD.