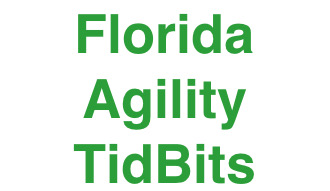 ►In the last issue, I announced that the Dog Obedience Club of Lee County was offering four sets of trials at Bratty Paws including one on DACOF weekend. Shortly thereafter I discovered that they changed the starting date of that trial to December 18. One of the few weekends in the cool months with zero trials. Good choice for 2020 but not 2021 since 2021 is a "leap" year in the AKC and that weekend # will be Christmas weekend. 
►I have added the DACOF important dates to the calendar. 
►Between the indoor facilities at Arcadia, Punta Gorda and St. Petersburg, this Summer will see AKC trials most weekends. The only weekends without one are the first weekend in June, DACOF weekend, 4th of July weekend and the Perry cluster weekend in July. All the rest of the weekends have at least one AKC trial tentatively scheduled.