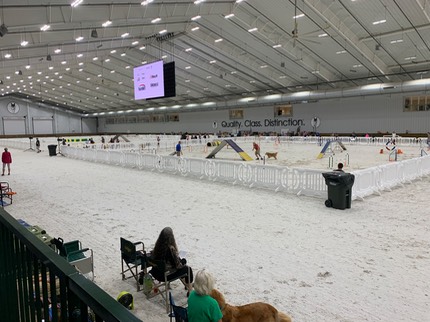 The Golden Retriever National Speciality is currently taking place (thru 10/30). The agility trial was held Sunday and Monday (Oct/24-25) (a picture above). This past May, the AKC held their Premier Cup at the facility. The AKC National Agility Championship will be held there in April 2022. 
The American Belgian Malinois Club will be holding a national speciality in May 2022. There will be two all breed agility trials on May 6-7 (Friday & Saturday). The judges are Cindy Deak and Jen Young. It will be in Arena 3 same as the GRCA agility trial above.
It is Kentucky Derby Week and there is a car show scheduled for Saturday and some horse events. ABMC has secured a group rate of $70/night with WEC for RV parking that agility competitors can use.  Here is the link for RV reservations. 
https://res.windsurfercrs.com/ibe/details.aspx?propertyid=16546&nights=1&checkin=05%2F03%2F2022&group=220504ABMC&fbclid=IwAR2PtlsgwuEHrYpbB2cFQyytbAa_dfHHUm417E1K-1GLefiwQXDxcwazJcA
ABMC also has group rates at the La Quinta and the Equus Inn in Ocala as follows -
1. Equus Inn, 3434 SW College Road, Ocala, FL 34474
Tel: 352-854-3200 for reservations under BELGIAN MALINOIS NATIONAL
Double Queen Suite $89, King Room $85
Cut-off date April 4, 2022
Pet Fee $30/day per room, maximum $100 for duration of stay
Amenities include newly renovated rooms (w/tv, a coffee machine, mini-fridge, and microwave), Wi-Fi, Complimentary Breakfast, Beer and Wine Machines, Out door pool, and fitness room.
www.equusinn.com/
2. La Quinta, 3530 SW 36th Avenue, Ocala, FL 34474
Tel 352-861-1137 for reservations under AMERICAN BELGIAN MALINOIS CLUB
Double Queen $74, King Room $85 (1 to 4 people per room)
Cut-off date April 2, 2022
No Pet Fee
In addition to the onsite hotel and RV park, the WEC has 71 "Home Away from Home" three bedroom units less than two miles from the center. Each has a kitchen, a king size bedroom, two queen bedrooms and a pull out sofa.
The trial information can be obtained from the Calendar and more information about the site can be obtained from the Florida Agility site page. Lori Patterson is the trial secretary.
The German Shepherd Dog Club of America is planning a National Speciality there in October 2022 (don't know if there will be any all breed agility).
Each of the indoor arenas is about 170'x530'. They recently added a fifth indoor arena - The Western Arena. This has a clay/sand surface more in tune with "western riding". Each arena could hold four rings (five with very little space between). Could it be a possible site for DACOF?