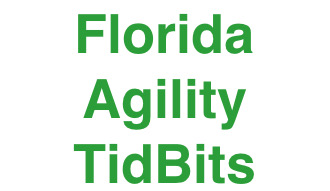 Some miscellaneous ramblings.
Fix and Go On and FEO are now permanent. The FEO rules are supposed to be in the premium if it is offered and as statement at the front of the premium if FEO is not offered. Also permanent is the reduction of the minimum closing date from 14 days to 7 days before the trial. 
OTC Palm Beach County is doing something different for their June trial. Friday will have two trials. One trial will be a regular trial and the second special event trial will be just MASTER standard and JWW. An opportunity to earn some more points for the Invitational!
DACOF has been cancelled for 2021. I am surprised a club has not scheduled an AKC trial for that weekend yet for some last gasp Invitational points. UPDATE: The Doberman Pinscher Club of Florida will be holding a trial at Bratty Paws on that weekend. 
The World Equestrian Center (WEC) is open for business. The Golden Retriever club is holding a national speciality there at the end of October. The Mid-Florida Golden Retriever club will be holding their October all breed trial on October 21-23 (Th, Fri, Sat) at Grand Oaks and Sunday will be Goldens only at WEC. I think Saturday is going to be logistically challenging!
The American Belgian Malinois Club will be holding a two day all-breed trial at the WEC in May 2022. 
The WEC has NINE buildings that could be used for agility trials. Each building could easily hold five rings. There are four arenas and five exposition centers. The arenas are designed for a dirt floor and have seating. The exposition centers have more space (no seating) and electric outlets in the floor. With the floor covered with artificial turf, they could be used for agility. The following is a link to a brochure that describes the buildings. https://worldequestriancenter.com/wp-content/uploads/2020/11/WECO_ExpoCenters.pdf