AKC eliminates the 26 inch Jump height
AKC has eliminated the 26 in jump height effective 1/2/2018 and replaced it with a "24 inch Choice". In effect dogs that are greater than 22 inches will jump the regular 24 inch class and the dogs that are 22 inches and less will jump in the 24 inch Choice class if they desire. There are separate ribbons for each 24 inch class. The course times for the 24 inch choice class will be the same as the 20 inch class. For more information:
https://akcagilitytrialsecretaries.wordpress.com/2017/07/21/new-24-inch-choice-height-effective-january-2-2018/
Arcadia Rodeo progress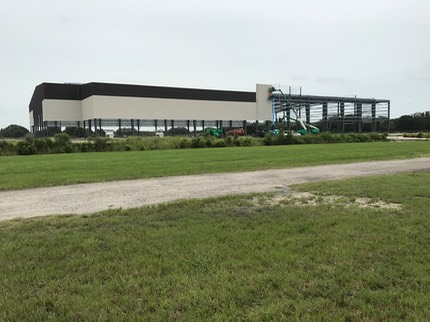 The Arcadia Rodeo is a replacement for their existing facility downtown. It is an open air covered arena and located next to the Turner Center. The photo was taken from the RV parking area. Sun will not be a problem since the walls extend down below the top of the seating on all sides. It looks like there will be a huge ridge vent in the roof to promote air circulation. If they put in some Big Ass fans, they could use it most of the year.
More information can be found on the Arcadia Rodeo web site. There are some artist renderings and drone overviews of the building. Note, if you click on "Donor Naming Options" and scroll down you can see some more details of the interior. 
http://arcadiarodeo.com/new-mosaic-arena/
I have never seen more than 6-8 people working on the building but they were working all this past weekend. 
I look at the facility as a possible agility location for the non-Summer months.