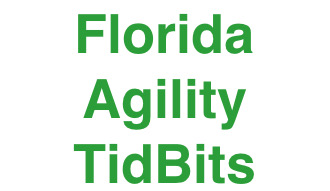 Website Update
The software that I have been using to maintain the content of this website has finally been broken by macOS Ventura. I will be delaying the update on my laptop until I migrate the site to a new product. The software I was using got sold to a company about ten years ago and it has not seen an update in about five years. I have been dreading this every Fall for the past few years, 
I have started the migration to a new product and I am aiming to publish it in the April/May time frame when the number of premiums slows down for the summer. I will probably publish the old site one last time as http://something.floridaagility.com where "something" could be archive, oldstuff, or whatever strikes my fancy at the time. I will also probably have to re-host the site so things will probably go back to the simple floridaagility.com so bookmarks, etc. will break. The existing site may be re-hosted earlier.
The site so far has a similar but different feel. Some things will likely not make it to the new site. For example, this news section will likely disappear. It is just too easy to post something to Facebook rather than doing one of these news items. I may look into embedding the Facebook feed into a page. I have just finished the Trial Site section and I have already axed about a half dozen trial site descriptions.
The site will be designed for a tablet/desktop but I could add in some features for phones if there is enough interest. For example, a phone in portrait mode could default to an agenda display for the calendar.
If there are any any additions, deletions, or corrections that you want, this would be a good time to let me know!