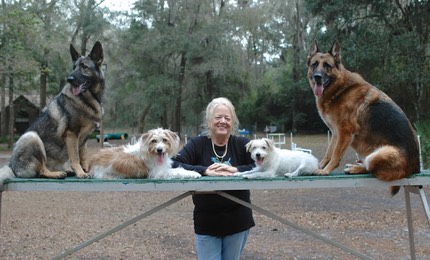 As hard as it is for me to believe, I have been teaching dogs and people for more than 40 years. In 1975, I began as an assistant obedience instructor, and in 1983, I started Puppy Love Dog Training in Naples, FL. I have worked with hundreds of dogs and their people on basic and pet obedience training as well as competitive obedience and rally. My own dogs have titled in Rally Advanced Excellent and Companion Dog obedience.
For many years, I specialized in behavior problems and general obedience. 15 years ago, I began competing in agility with my first agility dog, Rowdy. Over the past years, I have trained and shown my German Shepherds and my Parson Russell Terrier, achieving numerous titles in 5 different agility venues.
When I retired from teaching two-legged kids, I began teaching agility as well as obedience. Puppy Love Dog Training LLC moved from Naples, FL to Brooksville, FL. and became a full time business. We now offer agility training at all levels and our classes stay full. My clients and my dogs are my best testimonials.
6154 Neff Lake Rd
Brooksville, FL 34601